How does a casting for a porn actor look like?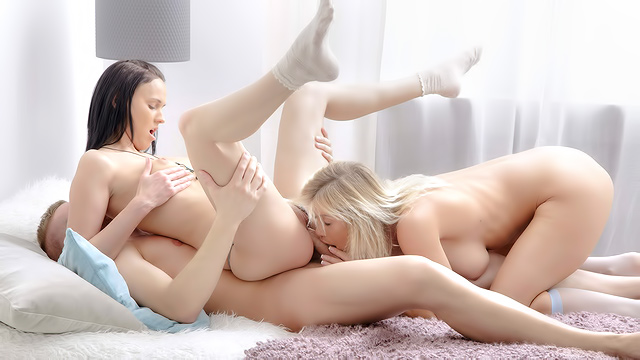 MAY 08 2022
A lot of guys dream about a career in the porn industry. Having sex non-stop and with willing girls, several partners at once, anal sex, oral sex - in one word: paradise! Unfortunately, it turns out that the "dream job" is not as wonderful as it might seem. Well, the size matters. Big dick porn rules! This is the first stage of recruitment, where a lot of guys lose because 20-23 cm penis length is an absolute MINIMUM. Being a straight guy is not enough. He needs to be universal. Touching other men testicles and playing in threesome porn is a daily routine. The condition must be perfect.
Having sex for a whole day while holding a girl up in the air is a challenge for everyone. Well, it's not as colourful as it seemed, hm?
XBIZ Pleasure products for gangbangers or threesomers
Porn products: Nobu Fetish SB1 - nobü
There's nothing like traveling with a portable spreader bar that's sure not to draw any attention while zipping through TSA. This set of three black metal tubes nest into each other with two 10" lengths and a 15" length that fits in the middle, all joined together with two silver metal pull pins. The spreader length is adjustable to 8 different lengths, making it versatile for a close restraint, or, as the name says, spreading your captive spread eagle so you can have it with them. Do what you want, knowing they are firmly captive with the two double-ended clips — and let them just try to squirm out of this great spreader bar. Just try….
Porn products: Cheeky Charms Small/Silver Kit - Viben
Cheeky and charming is this kit of a nickel-free, aluminum alloy plug with two, interchangeable flanges that simply snuggle in between sweet cheeks. Switch the base with the built-in, simple screw for the shiny, iridescent gem, or go for the rich, deep, bright pink gem in the other base. The distinct neck of this under-1"-wide cutie is sure to stay put in eager sphincters, and the tapered flanged base will keep it in for extra thrills. For those retailers with brick-and-mortar stores, the iridescent packaging compliments the plug and reflects the high quality of this cute little plug. Like the package says, "keeping your cheeks chic!"