How does a casting for a porn actor look like?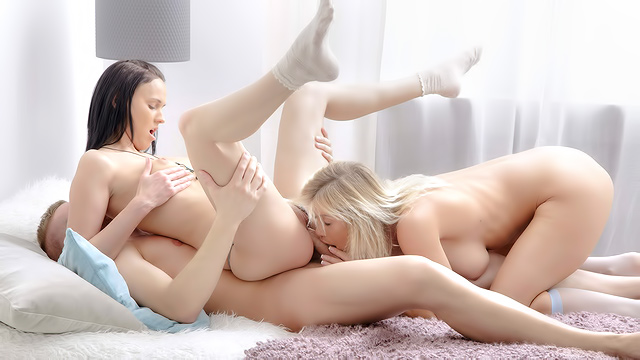 MAY 08 2019
A lot of guys dream about a career in the porn industry. Having sex non-stop and with willing girls, several partners at once, anal sex, oral sex - in one word: paradise! Unfortunately, it turns out that the "dream job" is not as wonderful as it might seem. Well, the size matters. Big dick porn rules! This is the first stage of recruitment, where a lot of guys lose because 20-23 cm penis length is an absolute MINIMUM. Being a straight guy is not enough. He needs to be universal. Touching other men testicles and playing in threesome porn is a daily routine. The condition must be perfect.
Having sex for a whole day while holding a girl up in the air is a challenge for everyone. Well, it's not as colourful as it seemed, hm?
XBIZ Pleasure products for gangbangers or threesomers
Porn products: Renegade Gladiator Vibrating Penis Harness - NS Novelties
For couples that are looking for the ultimate cock ring, the Renegade Gladiator Vibrating Penis Harness offers two cock rings, ball restraint, and a bulb massager all in one. The package has a clear plastic viewing window that will let you stand in awe at the shape. We decided to strap this toy on and give it a whirl and had fun with it. The harness itself has an "8" ring that will fit around the base of your cock and testicles acting as a cock ring while sheathing the rest of the shaft in a silicone cage that offers what we like to call the "speed strip."
Porn products: Maximus Male G-Spot Stimulator - Aneros
The Aneros Maximus is a slightly more bulbous version of the hands-free massager that some people have grown to love over the years. This version comes from the "Trident" series that boasts all the benefits from the original line while adding new comfort and stimulation. The packaging displays a full unit on the cover and provides details pertaining to the modified arms and the recommendation that this product is for those that prefer a "larger" sensation.
The inner box has a molded plastic fitment as well as a quick users guide to answer most questions.
I thought the Maximus would actually be larger than what it turned out to be. I do own some of the previous models and the real difference came down to the position of the massage arms. The arms put more pressure on sensitive areas than the older versions. This would be a great beginner toy for anal play — so do not let the name intimidate you.