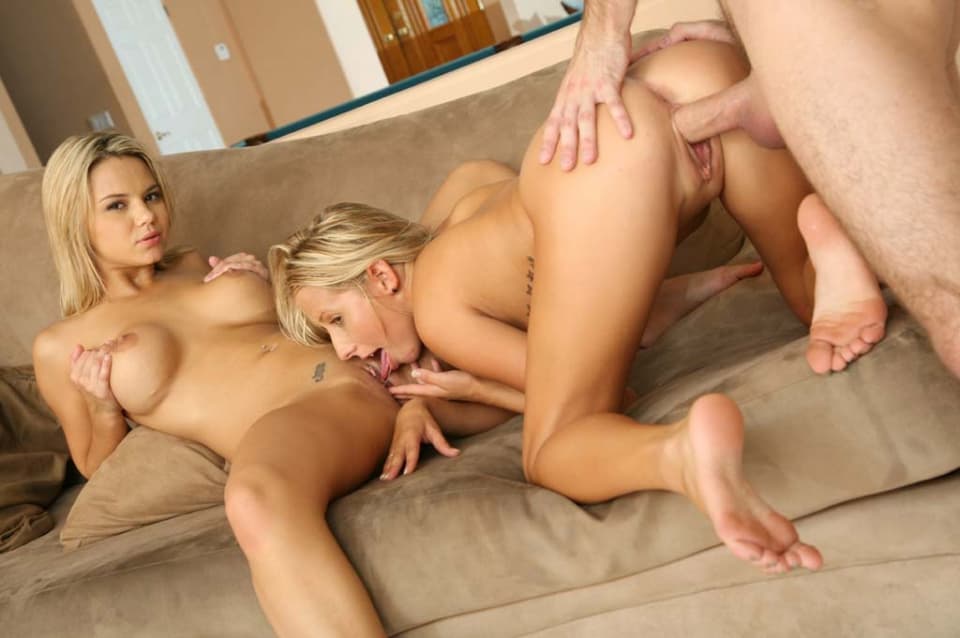 AUG 16 2019
Although orgy porn and threesome porn are popular porn genres, when it comes to relationships it seems that three is NOT company. In fact, many people in monogamous relationships would pale at the thought of their partners so much as looking in the direction of the opposite sex in a covetous manner, much less actually participating in sexual or romantic acts with them. There is, however, a rise in popularity when it comes to polyamory.
Many men and women are finding that they are willing and eager to participate in polyamorous relationships. Could it be that these brave souls are pioneering a brave new world? In a world filled with divorce and unhappy marriages perhaps the idea of sharing and experiencing different partners with the blessing of your spouse is not a ludicrous one.
XBIZ Pleasure products for gangbangers or threesomers
Porn products: The Original Pocket Rocket - Doc Johnson
There aren't many vibrators out there that are household names, but The Original Pocket Rocket is one of them and it stands out as one of the more accessible, discreet iconic toys. It was one of the first toys I tried, and a lot of that had to do with the famous name that I became familiar with even before I had any interest in pleasure products — I'm talking about hanging out with the kids on my block and making jokes about "your momma's Pocket Rocket" kind of fame. I don't think any of us even knew what it meant, but we sure thought it was funny. Come to think of it, perhaps it had something to do with growing up in the neighborhood adjacent to Doc Johnson's headquarters in North Hollywood, Calif… Several years later when I realized it was an actual product name, I was amused and especially curious. Turns out that this simple, beginner-friendly vibe is more than just a silly name, it's a classic toy that recently got a modern new look.
The new Original Pocket Rocket comes in a classy white box package with an opening that reveals the toy within. The front of the box features emblems noting the vibe's recent accolades from mainstream magazines, including being voted Best Clitoral Vibrator by Cosmopolitan and receiving one of Glamour magazine's Sex Toy Awards. Three of the box's sides also feature quotes from the magazines praising The Pocket Rocket's tried-and-true, timeless design. The packaging really changes the look of the iconic toy to a more luxurious, giftable item. Although you see the classic shape and logo emblazoned on it, the matte black look of toy with gold accents plus its clean white packaging give it a sense of revitalization that's best described as an upgrade.
The classic look of The Pocket Rocket means that it retains its pocket-sized shape that's topped by three balls that protrude from the top of the vibe to provide external stimulation. The single-speed mini massager also comes with a nubbed removable top that offers another option for stimulation. I can't say that I have a preference because I've found myself reaching for both; depending on what mood I'm in. The Pocket Rocket only has one speed and even for a clit-stimulation fan like me, it's never failed.
Porn products: Jason Luv ULTRASKYN Signature Cock - Doc Johnson
Jason Luv is one of the hottest male porn stars on the market and now you can hang out with him in the comfort of your own home! Well, only with part of him, that is. Molded directly from his manhood, this dildo is an exact replica, allowing you can experience him whenever you want. With a soft, pliable outside but a firm core for structure, the dual density of this dildo gives it a realistic feel. It also comes with a removable Vac-U-Lock suction cup for extra fun. Bring home your new buddy today!