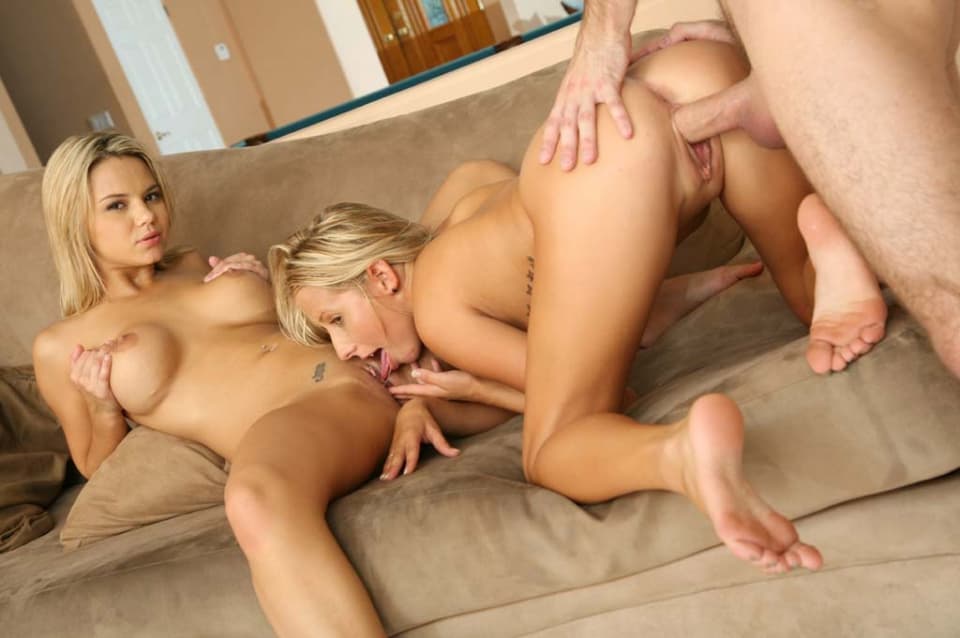 AUG 16 2020
Although orgy porn and threesome porn are popular porn genres, when it comes to relationships it seems that three is NOT company. In fact, many people in monogamous relationships would pale at the thought of their partners so much as looking in the direction of the opposite sex in a covetous manner, much less actually participating in sexual or romantic acts with them. There is, however, a rise in popularity when it comes to polyamory.
Many men and women are finding that they are willing and eager to participate in polyamorous relationships. Could it be that these brave souls are pioneering a brave new world? In a world filled with divorce and unhappy marriages perhaps the idea of sharing and experiencing different partners with the blessing of your spouse is not a ludicrous one.
XBIZ Pleasure products for gangbangers or threesomers
Porn products: The Cheeky Vibrating Panty With Rechargeable Bullet - Adam & Eve
It was the three-month anniversary with the guy I have been dating and when I mentioned this cute little package containing a vibrating lace panty, he implored that I bring it over on our date.
The stretch lace panties feel soft against the skin, and they look super sexy, as they hug my curves nicely — neither too tight nor too loose. The comfortable fabric is practically seamless as it clings to your hips without creating any unsightly bulges or creases. "Cheeky" is an appropriate name for this style — the edges along the bottom of the backside perfectly accentuate my booty, revealing a sensual amount of skin.
The very special feature of the sexy panty is its nifty lined inner pocket that's used to hold the included rechargeable vibrating bullet in place.
The Adam & Eve Cheeky Vibrating Panty was an incredible addition to foreplay and beyond. Although this vibrating panty isn't remote-controlled like others out there, it still was incredibly easy (and super hot) to use. The included bullet vibe features nine speeds, which can be used to tease (or torture) a partner, or at its most powerful, it can be used to rouse powerful orgasms. We explored the many possibilities with this toy on both of our bodies and found that this powerful accessory can provide up to an hour and a half of entertainment — granted that it's fully charged, of course.
The bullet vibe is enveloped in silky-smooth ABS plastic that feels luxurious against the skin; and it is also waterproof and submersible to allow you to take the sexy fun to the tub or shower. The bullet vibe can be easily inserted into the panty's pocket for hands-free fun, and it also effortlessly slides right out for some handheld, targeted stimulation. The possibilities are endless! Once you've used up all of the vibe's power, the bullet is easy to recharge via USB.
The Cheeky Panty comes packaged in a small, black box with a photo of the panties and bullet vibe on the front. It has a hanging tag that would allow retailers to prominently display this item on a wall. This item is a perfect item for couples that not only physically stimulating, but the incredibly sexy look of the panties is one that any shopper will gravitate to.
Porn products: Irresistible Mythical - Shots Toys
I was first introduced to the Irresistible Mythical last month at the XBIZ Retreat in Miami, where Shots America was showcasing the Irresistible collection of stimulators featuring Touchless Airwave Technology. There were just so many unique and really cool shapes that I had a hard time deciding which one I wanted to take home!
Available in in purple, black and pink colors with rose gold accents, each stimulator in the line is made of silky-smooth silicone. While the rest of the models in the Irresistible line come in an array of round shapes, I opted for the Mythical, which is shaped to provide both external and internal stimulation. With an insertable length of about 3.66 inches, this toy is far from intimidating.
The Mythical has a powerful 10-speed motor with a flexible shaft and a curved shape is perfect for G-spot stimulation while the Touchless Airwave Technology provides mind-blowing clit stimulation — resulting in intense internal and external orgasms. Touchless Airwave Technology works by gently and indirectly, stimulating the clitoris with 11 different intensity levels ranging from super-soft to powerful.
With suction encircling the clitoris without touching it, this toy stimulates it via soft pressure air waves. Another important feature of the Mythical is its hygienic sealed membrane that protects the toy's mechanism from body fluids. It was complete bliss to use this toy without wondering if I'd be able to effectively clean it off later. Another fun fact about the Irresistible collection is the story behind its branding.
Back at the XBIZ Retreat, I was made aware that the product names, as well as a banner that was used to promote the collection, was inspired by the classic 80s hit song "Simply Irresistible" by Robert Palmer. All of the Irresistible collection's product names are words taken directly from the song's lyrics, and a banner featured the iconic ruby-red lipped models in the background.
In addition to its high-quality design and technology, clever marketing campaign, the Irresistible line comes in flawless, classy box packaging. The Mythic is my favorite because of its dual-action features, but overall this whole line really is simply irresistible.