Group sex vs relationship. Is it worth risking?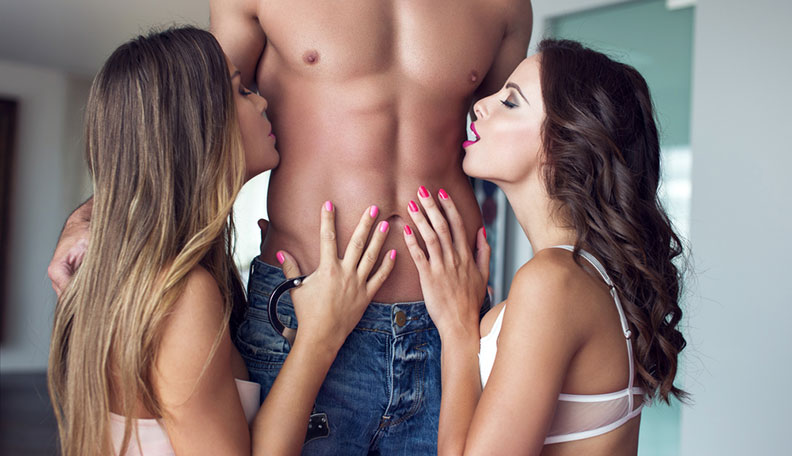 APRIL 04 2022
There are a lot of guys who dream about that, but they are afraid to ask their girlfriends. Well, there are a few scenarios when it comes to their possible reaction. She can really love it. Even so much, that you won't be enough for her anymore. The same can happen to you.
Your partner will feel humiliated and start reacting with aversion. You can feel disgusted after seeing her having a lot of fun with someone else. Last option - it won't change anything. You just have to sum it up and draw some conclusions. Does it make sense to try it out? Maybe it would be easier to watch some threesome porn and group sex porn movies together and discuss the idea as a general topic. You will see what she thinks about it. And you can be surprised.
XBIZ Pleasure products for gangbangers or threesomers
Porn products: Lux Fetish Expandable Spreader Bar Set - Electric Novelties
Spread 'em and suffer, I always say! But suffering be damned with these comfortable, adjustable, vegan wrist and ankle cuffs. The padded cuffs easily attach to the sturdy metal spreader bar, which extends from 24"-36" in length to keep your subbie in the perfect, willing position. The bar can be tugged on for the ultimate in control, and the wrist cuffs can be positioned in the center of the bar or at the ends. Let them beg for more action with this handy and very portable restraint device.
Porn products: Rechargeable Butterfly Kiss Flicker - CalExotics
This tried-and-true item is here with a new design. One of the brand's most popular toy design, the Butterfly Kiss, got a flicker update. Rechargeable and made of pure silicone, this toy really packs the power. There are two motors, with 10 intense vibration functions for you to play with — and that tongue flicker is no joke. Sometimes, those can be lackluster, but this tongue is ferocious. It's powerful and holds up to pressure. This toy comes with a travel lock and a memory function.