Group sex vs relationship. Is it worth risking?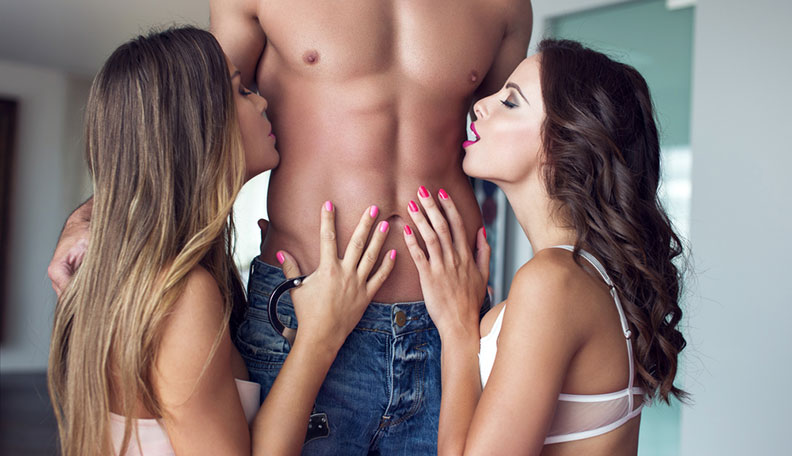 APRIL 04 2018
There are a lot of guys who dream about that, but they are afraid to ask their girlfriends. Well, there are a few scenarios when it comes to their possible reaction. She can really love it. Even so much, that you won't be enough for her anymore. The same can happen to you.
Your partner will feel humiliated and start reacting with aversion. You can feel disgusted after seeing her having a lot of fun with someone else. Last option - it won't change anything. You just have to sum it up and draw some conclusions. Does it make sense to try it out? Maybe it would be easier to watch some threesome porn and group sex porn movies together and discuss the idea as a general topic. You will see what she thinks about it. And you can be surprised.
XBIZ Pleasure products for gangbangers or threesomers
Porn products: Frisky Head Spin Pink Dancing Rabbit Vibe - XR Brands
This is one that everyone will love! It's perfect for all toy users and levels. First, there is an incredibly strong suction cup base you can stick to almost any surface. Just make sure to put it away and not leave it hanging up. Next, you have vibration that gets the blood flowing. The top of the shaft rotates to hit your G-Spot over and over again until you can't take it anymore. The remote makes it easy to control or for your friend to control it while you are using it. This is sure to be your new favorite buddy.
Porn products: Infinitt Suction Massager Two - Nasstoys
For those of us who just can't get enough stimulation, along comes the Infinitt Suction Massager that not only provides 12, yes, TWELVE suction settings and speeds to tantalize one's clit but also has a finger sized, insertable extension to tease just the right spot between the clit and the depths of desire inside. And yes, that little extension also offers 12 speeds of vibration so between the sucking and vibrating; I don't think I'm ever going to leave my house. And since it's rechargeable, I won't have to ever go out and get batteries, either. Thank goodness there's food delivery.