Group sex vs relationship. Is it worth risking?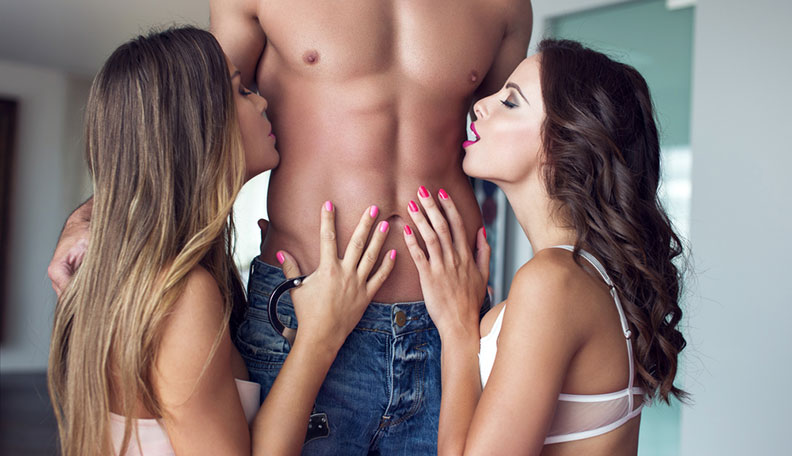 APRIL 04 2020
There are a lot of guys who dream about that, but they are afraid to ask their girlfriends. Well, there are a few scenarios when it comes to their possible reaction. She can really love it. Even so much, that you won't be enough for her anymore. The same can happen to you.
Your partner will feel humiliated and start reacting with aversion. You can feel disgusted after seeing her having a lot of fun with someone else. Last option - it won't change anything. You just have to sum it up and draw some conclusions. Does it make sense to try it out? Maybe it would be easier to watch some threesome porn and group sex porn movies together and discuss the idea as a general topic. You will see what she thinks about it. And you can be surprised.
XBIZ Pleasure products for gangbangers or threesomers
Porn products: Power Flower - Satisfyer
Inspired by the 60s era of peace and love, the Power Flower from Satisfyer has an effortless charm with its vibrant hue and velvety soft texture of its silicone material. Power Flower's unique shape is immediately intriguing right out of the box. Power Flower's signature feature — its petal-like split tip — explains the vibe's name and evokes curiosity as your imagination runs wild thinking about what you can do with it.
On Power Flower's ring-shaped handle you will find the toy's control panel, which consists of three buttons that allow you to toggle between speeds and vibration patterns. Power Flower features 12 settings that include six steady vibration speeds and six patterns. Its powerful motor sends vibrations throughout the toy; and at the tip, the petals flutter to provide tingling sensations wherever you want. The environmentally friendly vibe is rechargeable with the included magnetic USB cable.
Power Flower comes packaged in simple box packaging in a trendy pastel pink color; on the front is a smiling woman with hair blowing in the wind as a full-color image of the toy itself stands out on the front-side of the box. Power Flower is part of the ever-growing manufacturer's Satisfyer Vibes line.
Power Flower features an ergonomic shape that makes it easy to maneuver and effectively change settings on the toy, from its control panel. Once I powered up the vibe for the first time I used a lower setting and let the petals softly tickle me all over my body, particularly the more sensitive zones. It was an unbelievable foreplay accessory during solo play. I then applied some water-based lube on the vibe and turned up the power. When used to stimulate my own flower, the Power Flower provided an intense unique sensation. Power Flower also played an important role during couples play. This versatile vibe also is extremely pleasurable when used to stimulate the perineum or testicles, allowing for numerous thrilling experiences to share with a partner.
Power Flower is a fun toy that's part of a whole line of clever designs by Satisfyer. Customers will want to collect them all! Power Flower is a fun toy that is a welcomed addition to foreplay and can be enjoyed by couples of all varieties.
Porn products: Intimate Therapy Deep Comfort - Sir Richard's
The Control Intimate Therapy jack pack looks just like a big, black bottle of shampoo that I can leave in the shower for some wet and wild fun. When I unscrew the base, it opens up for use, and I can even flip the cap open and close for perfect suction action that feels just like a real mouth. This one is ideal for discreet play that's super satisfying.