Bukkake - the culmination of all facial fetishes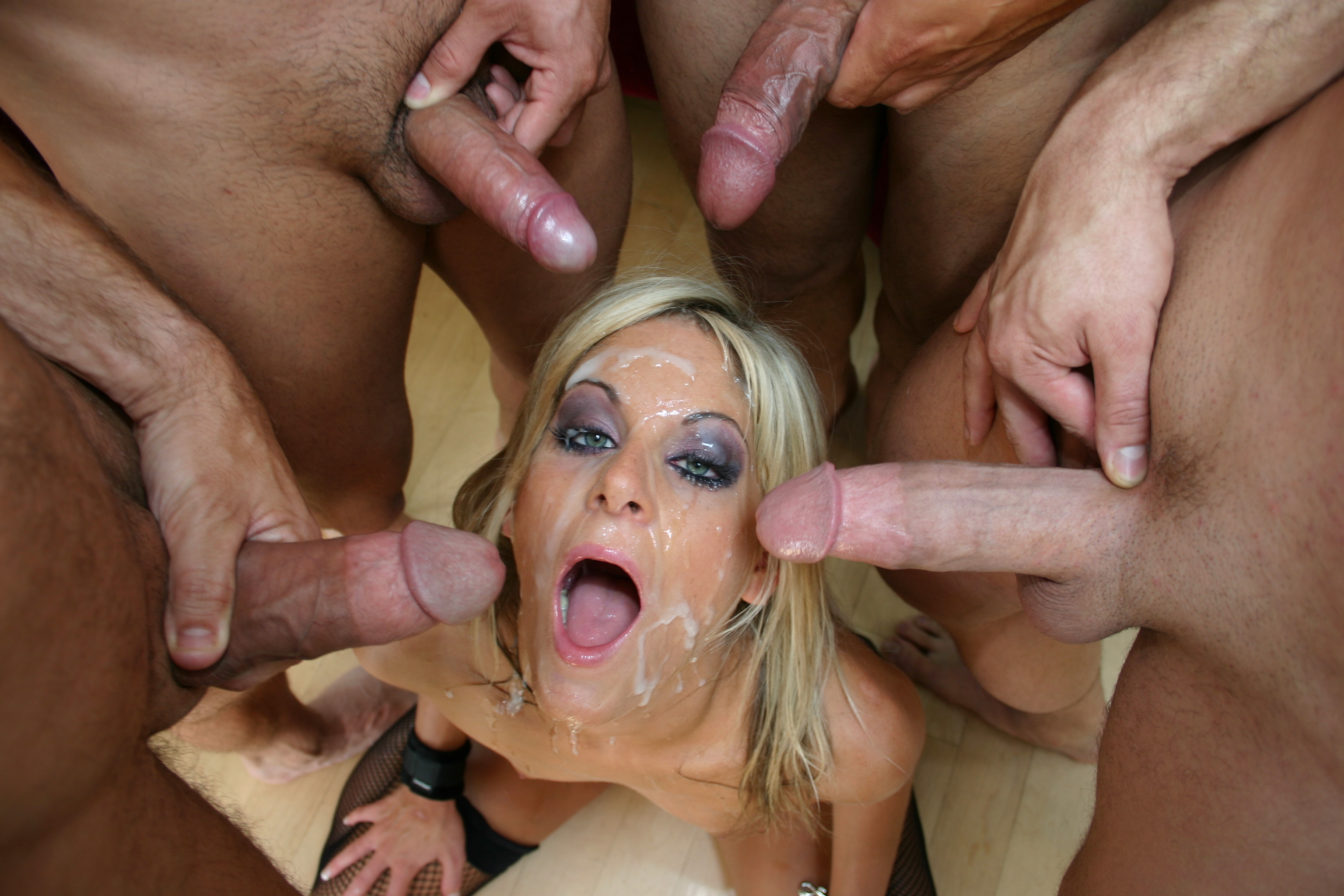 JUNE 12 2020
Bukkake is a sex act shown in group sex porn films, where a few men ejaculate on a face or a body of a woman or another man. Bukkake porn videos are a quite common niche in contemporary pornographic movies. Originally comes from Japan and means exactly "act of splashing". It's already spread to North America and Europe and crossed over into gay pornography.
Lesbian bukkake films are being produced as well. An alternative Japanese variant of bukkake is gokkun, where a few men ejaculate into a container for the receiver to drink. Bukkake is less popular in western countries, probably because the presumed submission of the woman does not appeal to many consumers.
XBIZ Pleasure products for gangbangers or threesomers
Porn products: The Cheeky Vibrating Panty With Rechargeable Bullet - Adam & Eve
It was the three-month anniversary with the guy I have been dating and when I mentioned this cute little package containing a vibrating lace panty, he implored that I bring it over on our date.
The stretch lace panties feel soft against the skin, and they look super sexy, as they hug my curves nicely — neither too tight nor too loose. The comfortable fabric is practically seamless as it clings to your hips without creating any unsightly bulges or creases. "Cheeky" is an appropriate name for this style — the edges along the bottom of the backside perfectly accentuate my booty, revealing a sensual amount of skin.
The very special feature of the sexy panty is its nifty lined inner pocket that's used to hold the included rechargeable vibrating bullet in place.
The Adam & Eve Cheeky Vibrating Panty was an incredible addition to foreplay and beyond. Although this vibrating panty isn't remote-controlled like others out there, it still was incredibly easy (and super hot) to use. The included bullet vibe features nine speeds, which can be used to tease (or torture) a partner, or at its most powerful, it can be used to rouse powerful orgasms. We explored the many possibilities with this toy on both of our bodies and found that this powerful accessory can provide up to an hour and a half of entertainment — granted that it's fully charged, of course.
The bullet vibe is enveloped in silky-smooth ABS plastic that feels luxurious against the skin; and it is also waterproof and submersible to allow you to take the sexy fun to the tub or shower. The bullet vibe can be easily inserted into the panty's pocket for hands-free fun, and it also effortlessly slides right out for some handheld, targeted stimulation. The possibilities are endless! Once you've used up all of the vibe's power, the bullet is easy to recharge via USB.
The Cheeky Panty comes packaged in a small, black box with a photo of the panties and bullet vibe on the front. It has a hanging tag that would allow retailers to prominently display this item on a wall. This item is a perfect item for couples that not only physically stimulating, but the incredibly sexy look of the panties is one that any shopper will gravitate to.
Porn products: Silicone Rim Joy - Sir Richard's
I love a good rim job so when I found the Sir Richard's Silicone Rim Joy, I was pretty damn happy. It's packed in a slick black case that I can easily hide under my bed and when unpackaged, it fits in my palm and has a removable silicone rim that can come off when I really want it's little tongue directly in my asshole.
It has a button to warm up the tongue before I use it and the multi-speeds feel really good. The tongue itself isn't that big, but when I add lube to it and slip it around my ass to do a rim job, it really gets the job done!