Bukkake - the culmination of all facial fetishes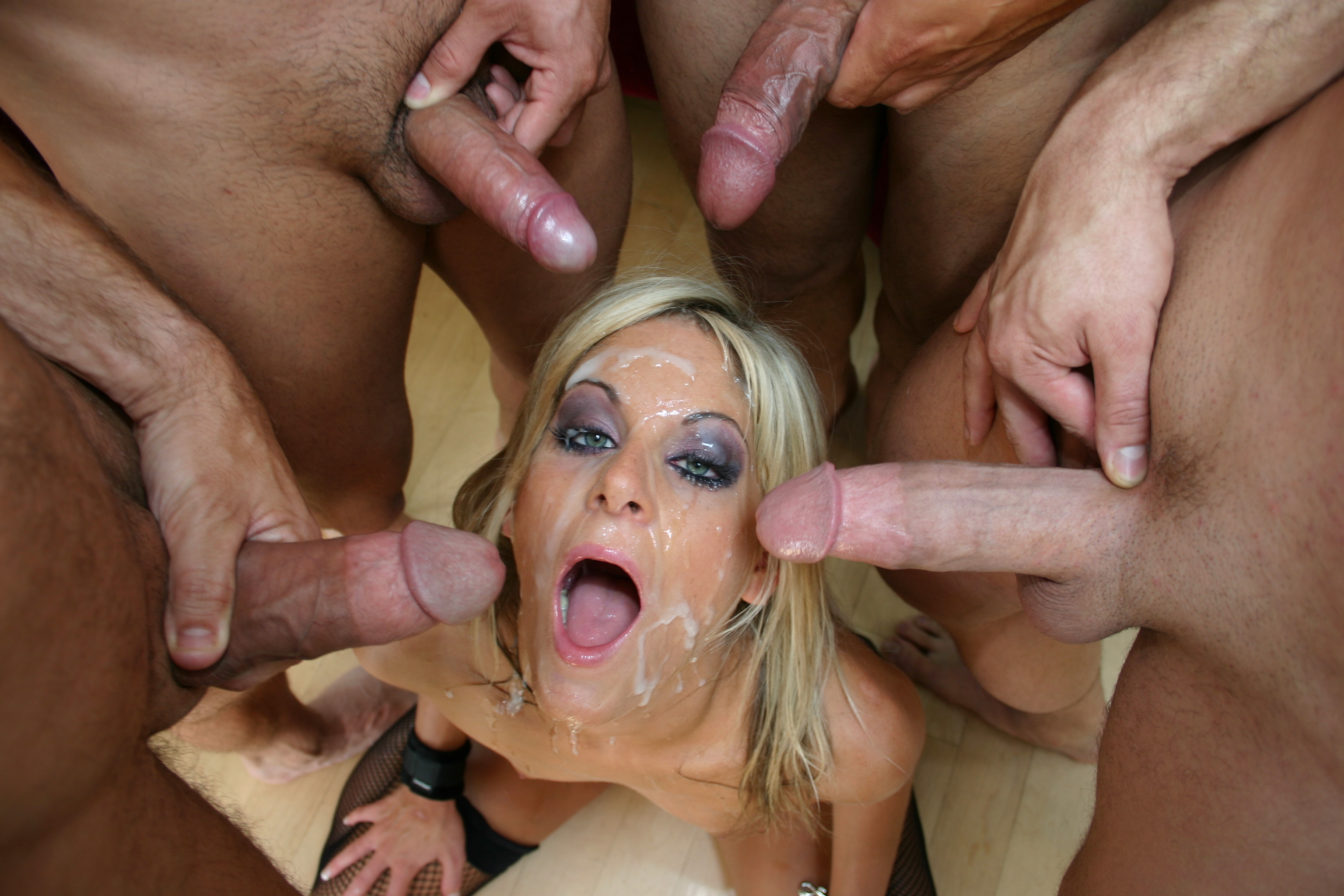 JUNE 12 2019
Bukkake is a sex act shown in group sex porn films, where a few men ejaculate on a face or a body of a woman or another man. Bukkake porn videos are a quite common niche in contemporary pornographic movies. Originally comes from Japan and means exactly "act of splashing". It's already spread to North America and Europe and crossed over into gay pornography.
Lesbian bukkake films are being produced as well. An alternative Japanese variant of bukkake is gokkun, where a few men ejaculate into a container for the receiver to drink. Bukkake is less popular in western countries, probably because the presumed submission of the woman does not appeal to many consumers.
XBIZ Pleasure products for gangbangers or threesomers
Porn products: Seduce Me Nipple Suckers - Nasstoys
The Seduce Me Nipple Suckers are likely the easiest nipple play toys we have ever used. There is nothing to screw in or clasp on. There are no dials or knobs to twist. You simply squeeze them and put them on. It is easy to release or adjust with much less fumbling than more complex nipple play toys.  They feel great!
Porn products: DiGiT - Hot Octopuss
As a fan of smaller clitoral vibes, I was promptly drawn to Hot Octopuss' new DiGiT. Another thing that immediately drew my attention is this vibe's super-cute tagline, "Show Bad Sex the Finger!" This just about sums up why I love clit vibes so much — they've always been instrumental in saving a (potentially) bad sexual experience. I knew right away that DiGiT is a toy that really gets me.
With its large rumbly motor and five powerful vibration settings, DiGiT is encased in smooth silicone that feels delightful against the skin. The vibe's tip gets gradually thicker, which makes it perfect for self-pleasure. The vibe's tip is contoured, which allows you to find the exact pressure and angle that you need to reach orgasmic results. DiGiT also is designed with two finger loops that make controlling the toy effortless. With the vibe gripped to your finger, you're able to take pressure off your wrist, resulting in a much more comfortable experience. DiGiT was comfortable to use even during a prolonged session. It pretty seamlessly works as an extension of your finger that's enhanced with powerful vibration.
DiGiT is powered up by pressing two indented buttons along the side. The buttons are easy to access even while in use, which made it easy to switch up the vibration speeds whenever you please. With its ergonomic shape, petite size, finger loops and strategically placed buttons, DiGiT makes it very easy to pleasure oneself. Its versatile shape also allows it to be used on any part of the body, including that of a partner. The waterproof toy is also safe to use in the shower, bath or hot tub. The opportunities for pleasure are endless with this gorgeous finger vibe. On top of being extremely user-friendly, DiGiT is also rechargeable for frequent use; and it also comes with a one-year warranty to ease any worries leading up to the purchase. Packaged with a satin travel pouch, DiGiT is easy to take on the go and also stores discreetly.
DiGiT's packaging also stands out with its metallic red box that isn't much bigger than the petite vibrator inside. The gorgeous little box just begs to be picked up off a shelf; and it's also covered in product information that is easy to read, thus effectively showcasing the item that's carefully packaged within. Retailing for $69, this premium finger vibe is sure to be a top-seller, delivering premium quality and aesthetics.