Bukkake - the culmination of all facial fetishes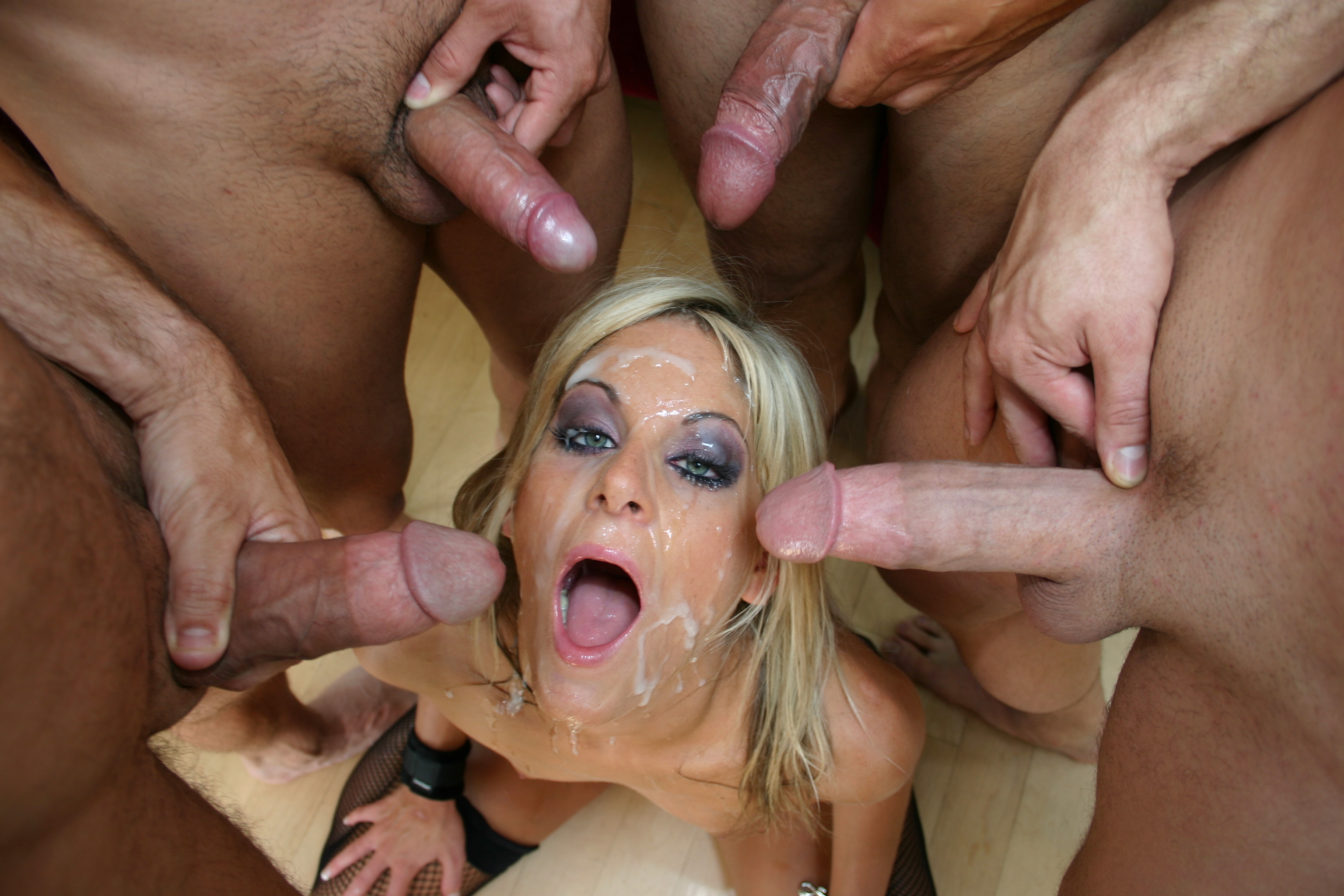 JUNE 12 2021
Bukkake is a sex act shown in group sex porn films, where a few men ejaculate on a face or a body of a woman or another man. Bukkake porn videos are a quite common niche in contemporary pornographic movies. Originally comes from Japan and means exactly "act of splashing". It's already spread to North America and Europe and crossed over into gay pornography.
Lesbian bukkake films are being produced as well. An alternative Japanese variant of bukkake is gokkun, where a few men ejaculate into a container for the receiver to drink. Bukkake is less popular in western countries, probably because the presumed submission of the woman does not appeal to many consumers.
XBIZ Pleasure products for gangbangers or threesomers
Porn products: White Label Satin Robe - Baci Lingerie - Baci
I've owned several robes throughout my life, and currently I own what I consider to be a versatile selection of three robes that include a terrycloth short-sleeve style, a long-sleeve warmer style and finally now, this new sensual style from Baci Lingerie. The reason why I keep so many robes is because they each have their purpose. In the winters, I obviously reach for the coziest robe and summertime is when I wear the short-sleeved terrycloth robe. I usually don't just wear my robes as I get out of the shower. I like to take my time in them while I glam up before a hot date or a night on the town. With Baci Lingerie's silky satin robe, my glam look has gotten an upgrade, and it's a style that is comfortable to wear regardless of the temperature. With this gorgeous, sleek white robe on, I feel beautiful already — even before I start my hair and makeup glam routine.
Baci Lingerie's white satin robe feels sensual against the skin with the caress of the silky satin-like material covering my body. The tag says that the robe is made of 100 polyester, however the material is silky like satin, while still feeling like a sturdy article of clothing that will last through multiple wears. I especially love how the robe feels against my skin after a relaxing bubble bath, which is always followed by moisturizing and applying one of my favorite fragrances. This robe is perfect for an evening of self-care, as well as while prepping for a sexy night out.
This satin robe, which is part of Baci Lingerie's White Label collection, also is a perfect accessory to wear on top on revealing lingerie. I donned this sleek white robe over my black lace bra and panty set as I welcomed my boyfriend over one evening, and it was the perfect piece to tease him with. I kept it on as I served us some wine and allowed the robe to open, thus revealing peeks of the lingerie that awaited him underneath. This robe really works overtime! Not only does it put me in the mood for relaxation, but also enhances sensual experiences with my lover.
Porn products: Bodywand Glow in the Dark - XGen Products
Did someone say plug and play? Well, here is a full-size body wand massager that comes in a very eye-catching glow-in-the-dark green reminiscent of the glow-in-the-dark stars we had in our rooms as kids; that was great fun, and this wand will bring you excellent adult fun. For a play that will take you to another level, this is an astounding multi-speed vibrating wand — and it is whisper-quiet and very lightweight. This wand can be used for couples play as well; think about the fun time you can have with your mate while using this product — the possibilities are endless. So, enjoy yourself, have long-lasting fun, and remember to use lube.