ADULTCON Panels: More than Porn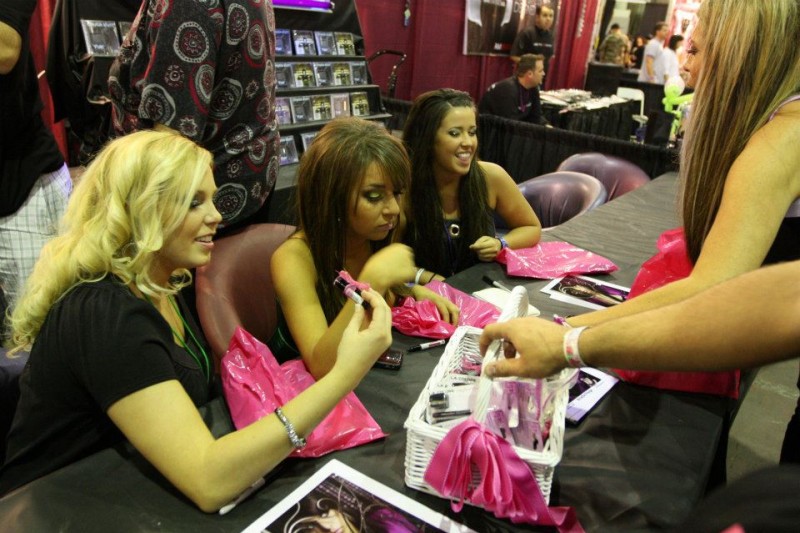 SEPTEMBER 03 2018
ADULTCON offers a lot of porn performers and many chances to purchase the porn of your dreams. If you want to swing by just to get some group sex porn or Indian porn, you totally could. However, there's so much more than Indian porn at ADULTCON. The panels are a feature that keeps people coming back.
Our culture is still very much against sex. It's not depicted in any kind of positive, really healthy way in the mainstream media. ADULTCON fights that by having educational, sexy, informative panels. You can learn about kinks and fetishes, get some grounding in how to enjoy sex more, and watch performers show you just how good being naughty can be. You can still walk the floor of the convention—just pencil in time to learn!
XBIZ Pleasure products for gangbangers or threesomers
Porn products: Stroke It Pussy (Anatomically Correct) - CalExotics
What is more straight and to the point than a name like "Pussy?" The Stroke It brands itself as an anatomically correct pussy with plushy soft pink lips with a few photos on the rear of the packaging to verify authenticity. The piece itself comes wrapped in a breathable bag.
One of its selling features is that it weighs over a pound. I didn't think much of it while reading the description but this stroker does feel heavier to similar products. It proved to be helpful in a way that the extra mass could glide easily, requiring a little less effort on the user's side. Another key feature is that this is a sealed product. It creates its own suction but requires a little more attention to detail on cleanup.
Porn products: Horoscope Kit (Aries) - Bijoux Indiscrets
The Horoscope Kit from Bijoux Indiscrets came to me in a uniquely triangular shaped box as that is adorned with gold accents and a front cover textured in night-sky constellations. Inside, along with the necklace, there's a clitoral balm and a nicely sized finger bullet vibe, along with a triangular shaped booklet that opens with a description of Aries — "passionate, sexy and competitive" — yup, that's me! It also offered more information about the included Red Jasper gemstone and the Spice Ginger clitoral balm. Both accessories are intended to enhance the passion and harness the impulsive energy of Aries to make way for sensual pleasure.
The Spiced Ginger scented clitoral balm works like a charm. Before intimately testing it out, I applied the balm to my lips (on my face) and breathed in the zesty scent and felt it tingle. It had similar warming, tingly effects on my lady parts that paired wonderfully with the silicone finger vibe. From the unboxing to the adorning your neck with a beautiful gemstone necklace to taking a whiff of the clit balm to actually masturbating with it and the finger vibe, this kit is definitely a ritual of self-love and sensual pleasure that any woman would enjoy. It would make a gorgeous gift for a friend, lover and yourself!