ADULTCON Panels: More than Porn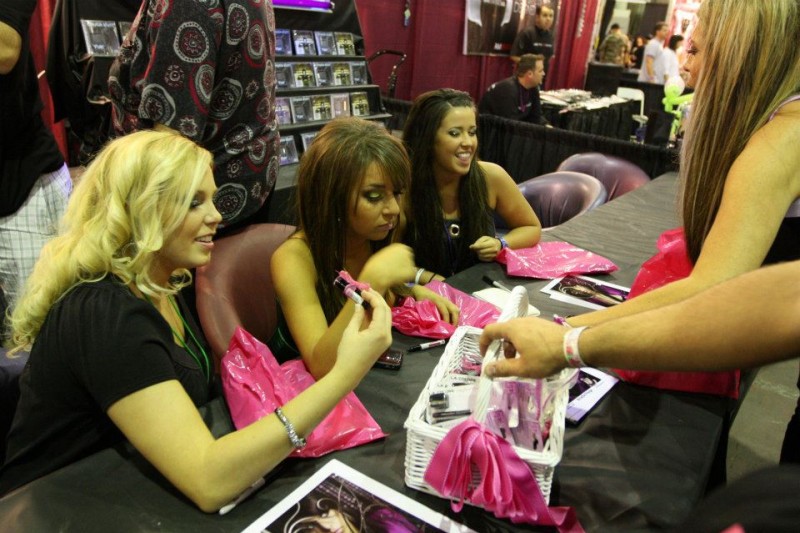 SEPTEMBER 03 2018
ADULTCON offers a lot of porn performers and many chances to purchase the porn of your dreams. If you want to swing by just to get some group sex porn or Indian porn, you totally could. However, there's so much more than Indian porn at ADULTCON. The panels are a feature that keeps people coming back.
Our culture is still very much against sex. It's not depicted in any kind of positive, really healthy way in the mainstream media. ADULTCON fights that by having educational, sexy, informative panels. You can learn about kinks and fetishes, get some grounding in how to enjoy sex more, and watch performers show you just how good being naughty can be. You can still walk the floor of the convention—just pencil in time to learn!
XBIZ Pleasure products for gangbangers or threesomers
Porn products: Aqua Bunny - Evolved Novelties
I've always fantasized about using a wood honey dipper as a sex toy but never used one because the thought of splinters in my snatch is not a turn on. Lo and behold, along comes the waterproof Aqua Bunny with, guess what? A head that's shaped like a honey dipper! The ridges feel wonderful inside (just like I fantasized about) and the flexible shaft makes it easy to reach the sides of my honey jar. The well rounded, clit stimulating ears tickle just the right spot while I enjoy the multi-speed and functions of the shaft and rabbit. The easy-to-use controls let me live out my honey dipper fantasies safely and pleasurably. Lucky me!
Porn products: Commander Heat Up Butt Plug - Nasstoys
Oh, my Commander! Let me count the ways of how much I love thee. Your soft, silicone skin is like a rose petal's touch between my cheeks. Your comfortable size slides in without effort or pain (but always with lube) and your tapered base allows me to effortlessly kiss my cheeks together. The gentle ridges on your slender neck let my sexy sphincters grasp you like a tender lover in the night. Your three speeds are easy to change with the simple tap of my fingertip. And what is that I feel as you nuzzle deep inside my ravishing rectum? You're warm, too? Why yes, you are. My Commander! I will recharge you forever and never leave you (inside). You're mine forever.
Retailers, make sure you highlight the features of this smart, wonderful butt plug. It doesn't feel like others on the market and the warming sensation will make it easy for beginners to use.