When One Partner Does Not Seem To Be Enough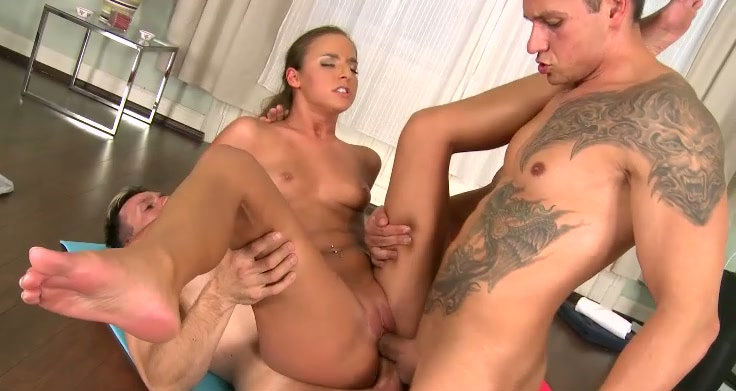 DECEMBER 03 2021
Times have changed. A sexual act is no longer considered a shameful activity, which must be done at home under a douvet and with the lights off. We want to experience different types of pleasure – the ones which you can see, for example, in orgy porn. Threesome or double penetration porn movies no longer wake scandal. On the contrary - they are of continued interest. For many women group sex becomes a forbidden fantasy.
Even though not all partners are ready for inviting one or more persons to their bed, they still secretly dream about it. They just need a bit encouragement to admit it.
XBIZ Pleasure products for gangbangers or threesomers
Porn products: Secrets Lace Panty & Love Egg - XGen Products
When you want to spice things up a bit, why not have some naughty, remote-controlled fun? This lovely, lacy, small, turquoise thong has a convenient pocket for sliding in the egg-shaped, 10-speed, remote controlled vibe. It's amazingly quiet, no matter what speed or function is zipping by and the only sound you'll hear are shrieks and giggles of the lucky wearer. Both the egg and remote are rechargeable, allowing for endless hours of hanky panky!
Porn products: Master Series Dark Delights - XR Brands
I've got to tell ya, I really love butt plugs when they are sold in sets of three. Small, medium and large — and I especially love them when the sizes are proportioned in smaller, comfortable sizes and don't look like weapons of ass destruction. This silicone Dark Delights set features three pleasantly curved and delicately shaped plugs for easy penetration and P-spot stimulation. Each one has an increasing length and bulb end size, yet retain a slender neck and even more slender, butt cheek-friendly flange. They're also great for vaginal penetration for those who want knobby G-spot action with a distinct bulb and a narrow shaft.