Give Her Some Extra Pleasure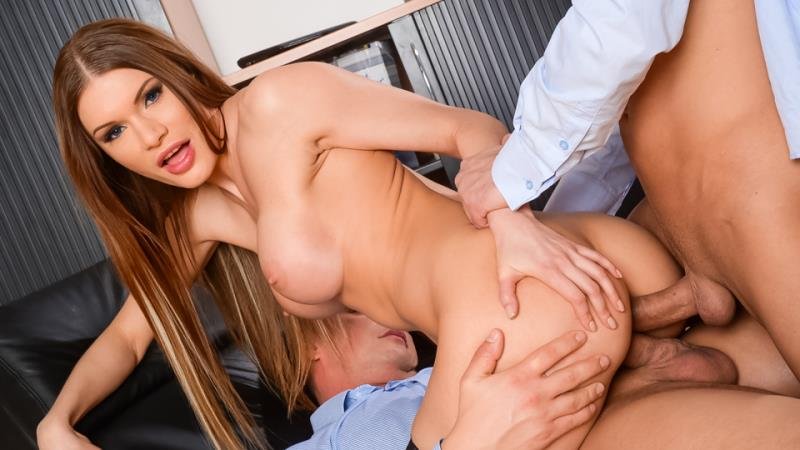 MARCH 07 2020
It's a nice evening. You and your lady chose some movies from the selection of double penetration porn to get a bit more turned on before your bedtime and suddenly she says 'I would like to try this.' Should you invite another man to your bedroom? There's no need to as now the most fancy toys known from the professional porn can provide extreme pleasure to both of you.
Double penetration sensations can be achieved when there is only two of you. This amazing vibrating double penetrator for naughty couples will immediately secure the highest levels of pleasure for two. Grab this unbelievable device to feel like a real player from your favourite professional porn movie and fill her out with your hard cock while penetrating her backdoor at the same time.
XBIZ Pleasure products for gangbangers or threesomers
Porn products: Her Royal Harness The Regal Princess - CalExotics
Oh la-la! True to its name, I most certainly do feel like a queen wearing this harness. My number one favorite thing is that because of the larger back support strap, it's ultra sturdy and holds everything in place. It's lined with velvet, which makes it extra luxurious and comfortable for long wear. I also appreciate that it's made from vegan leather, meaning it has the look and feel of luxury without any of the guilt if you typically avoid products made from animals.
Everything is adjustable to fit a range of sizes, and it comes with three O-rings to accommodate a variety of devices, including all of CalExotics Me2 range of probes. The one thing I will say is that although it's a beautiful harness, I was thinking that it was fully black based on the product images, when in fact, just the velvet lining is black — the vegan leather is actually grey.
Porn products: I'm Your Slut Coupons - Kheper Games
Alright, on the surface, this coupon set is an obvious gag gift, however, if you approach it from an open-minded, "let's mix things up just for the hell of it" perspective, I could see it being a funny icebreaker for couples who are maybe stuck in a sexual rut.
There are spaces on each of the 10 coupons to denote date given, date redeemed, to, from and any additional notes, which adds that special personalized touch. Some of the coupons — "Breast-Fast in Bed" — are a little cheesy, but again, if it's all in the spirit of keeping things fun and light, why not?
Also, I appreciate that there's a range of scenarios offered: some, like "Ride the Cowboy," are relatively mild, while others, like "Sleazy Motel Hookup," will require more planning.