Give Her Some Extra Pleasure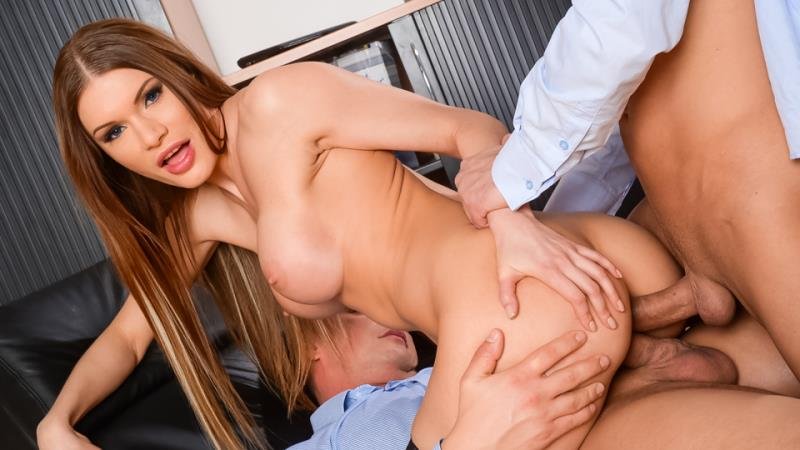 MARCH 07 2020
It's a nice evening. You and your lady chose some movies from the selection of double penetration porn to get a bit more turned on before your bedtime and suddenly she says 'I would like to try this.' Should you invite another man to your bedroom? There's no need to as now the most fancy toys known from the professional porn can provide extreme pleasure to both of you.
Double penetration sensations can be achieved when there is only two of you. This amazing vibrating double penetrator for naughty couples will immediately secure the highest levels of pleasure for two. Grab this unbelievable device to feel like a real player from your favourite professional porn movie and fill her out with your hard cock while penetrating her backdoor at the same time.
XBIZ Pleasure products for gangbangers or threesomers
Porn products: Royal Rabbits Bling Bunny 10X Flexing Rabbit Vibrator by Inmi - XR Brands
Holding the Royal Rabbits Bling Bunny 10X Flexing Rabbit Vibrator in my hands, everything about it feels top-notch — the black silky-smooth premium silicone shaft, the gleaming rose-tinted control panel with a sparkling gem-adorned on/off button in the center … once I powered on the Flexing Rabbit, I was really intrigued by all of its impressive features.
The Royal Rabbits Bling Bunny 10X Flexing Rabbit Vibrator's shaft flexes up and down to stroke the G-spot in a "come hither" motion at three speeds. To activate the flexing tip, simply press the top button (which also is marked with a symbol that looks like a bent line. The shaft has a nice length and girth that inserts deep — but in the best way. The tip is rounded and tapered to allow it to be inserted comfortably, and with the buttons within easy reach, positioning the rabbit for maximum simultaneous G-spot and clit stimulation is a piece of cake.
The clit-stimulating rabbit not only has fluttering wings that deliver powerful external stimulation, but the rabbit also has an adorable protruding nose that seeks out the clit to provide direct vibration. The bottom button on the control panel operates the separate motor in the clit attachment — it also is easily within reach, enabling you to explore the seven variations of vibration speeds and patterns. Even at its lowest vibration speed, the Flexing Rabbit's clit-focused motor rumbles powerfully.
When the two motors are revved up, you can expect orgasmic results within just a few minutes of use. The shaft of the toy fills you as its tip strokes your G-spot with precision and at the speed that you find the most pleasurable. This vibe would make a delightful gift for (yourself and) anyone that's looking for the ultimate dual-stimulator.
The Royal Rabbits Bling Bunny 10X Flexing Rabbit Vibrator is magnetically rechargeable and waterproof, and comes packaged in a black-and-light-pink box suitable for both shelf and slat-wall displays. The packaging features a large image of the vibe on the front with smaller images that showcase its standout features (the come-hither motion of the tip and powerful clit stimulator).
While the toy's box mostly features matte shades, the image of the vibe itself is glossy, which makes it stand out. With an MSRP of $109.95, this vibe is a great item to spoil oneself or a loved one with.
Porn products: The Cheeky Vibrating Panty With Rechargeable Bullet - Adam & Eve
It was the three-month anniversary with the guy I have been dating and when I mentioned this cute little package containing a vibrating lace panty, he implored that I bring it over on our date.
The stretch lace panties feel soft against the skin, and they look super sexy, as they hug my curves nicely — neither too tight nor too loose. The comfortable fabric is practically seamless as it clings to your hips without creating any unsightly bulges or creases. "Cheeky" is an appropriate name for this style — the edges along the bottom of the backside perfectly accentuate my booty, revealing a sensual amount of skin.
The very special feature of the sexy panty is its nifty lined inner pocket that's used to hold the included rechargeable vibrating bullet in place.
The Adam & Eve Cheeky Vibrating Panty was an incredible addition to foreplay and beyond. Although this vibrating panty isn't remote-controlled like others out there, it still was incredibly easy (and super hot) to use. The included bullet vibe features nine speeds, which can be used to tease (or torture) a partner, or at its most powerful, it can be used to rouse powerful orgasms. We explored the many possibilities with this toy on both of our bodies and found that this powerful accessory can provide up to an hour and a half of entertainment — granted that it's fully charged, of course.
The bullet vibe is enveloped in silky-smooth ABS plastic that feels luxurious against the skin; and it is also waterproof and submersible to allow you to take the sexy fun to the tub or shower. The bullet vibe can be easily inserted into the panty's pocket for hands-free fun, and it also effortlessly slides right out for some handheld, targeted stimulation. The possibilities are endless! Once you've used up all of the vibe's power, the bullet is easy to recharge via USB.
The Cheeky Panty comes packaged in a small, black box with a photo of the panties and bullet vibe on the front. It has a hanging tag that would allow retailers to prominently display this item on a wall. This item is a perfect item for couples that not only physically stimulating, but the incredibly sexy look of the panties is one that any shopper will gravitate to.