Give Her Some Extra Pleasure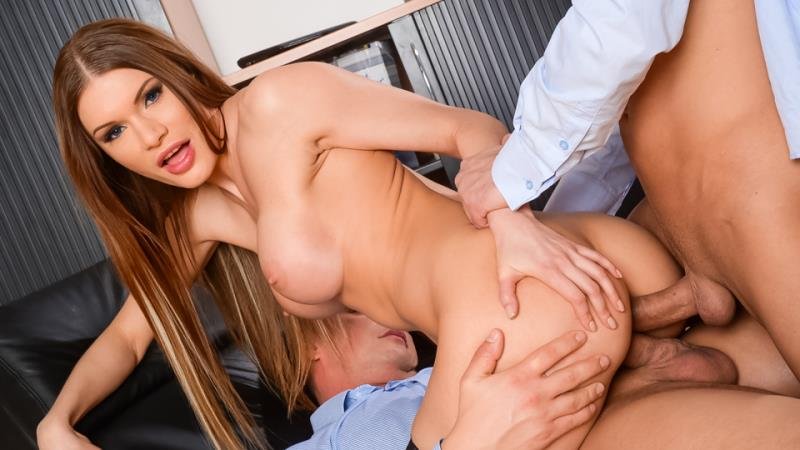 MARCH 07 2018
It's a nice evening. You and your lady chose some movies from the selection of double penetration porn to get a bit more turned on before your bedtime and suddenly she says 'I would like to try this.' Should you invite another man to your bedroom? There's no need to as now the most fancy toys known from the professional porn can provide extreme pleasure to both of you.
Double penetration sensations can be achieved when there is only two of you. This amazing vibrating double penetrator for naughty couples will immediately secure the highest levels of pleasure for two. Grab this unbelievable device to feel like a real player from your favourite professional porn movie and fill her out with your hard cock while penetrating her backdoor at the same time.
XBIZ Pleasure products for gangbangers or threesomers
Porn products: Satisfyer Pro G-Spot Rabbit - Satisfyer
Who says a rabbit can't suck? The Satisfyer Pro G-Spot Rabbit sure does! Although not shaped like a rabbit, nor with rabbit ears, (the term "rabbit" is now synonymous with dual stimulating, internal/external pleasure devices), this comfortably shaped, silent silicone Satisfyer fills the vagina gently and thoroughly while the clit-sucking action takes place on the outside. Since the shape can nuzzle inside and stay put and the suction starts pumping the blood-engorged clit, basically all you need to do is press the buttons for speed. Once you've hit your sweet spot both inside and out, all you need to do is lay back and enjoy the ride. The G Spot Rabbit will do the driving.
Market Appeal
With all the heavy marketing that Satisfyer has done in mainstream, many consumers will already be familiar with the brand. Showcase the Satisfyer Pro G-Spot Rabbit alongside other rabbit vibes to showcase the unique features of this dual-stim toy.
Porn products: Red Ribbon Harness - Adam & Eve
Manufactured with a five-year warranty, you'll get plenty of action with this red ribbon festooned harness with corset-like weaving above the wearer's rear. The brocade embossed polyurethane panels have a fabric backing worn against the wearer's skin. The stretchy ring in the front of the harness can accommodate a standard dildo base and the leg straps are wide enough to be comfortable between one's legs, assuring a good time for the one getting the dildo between theirs.